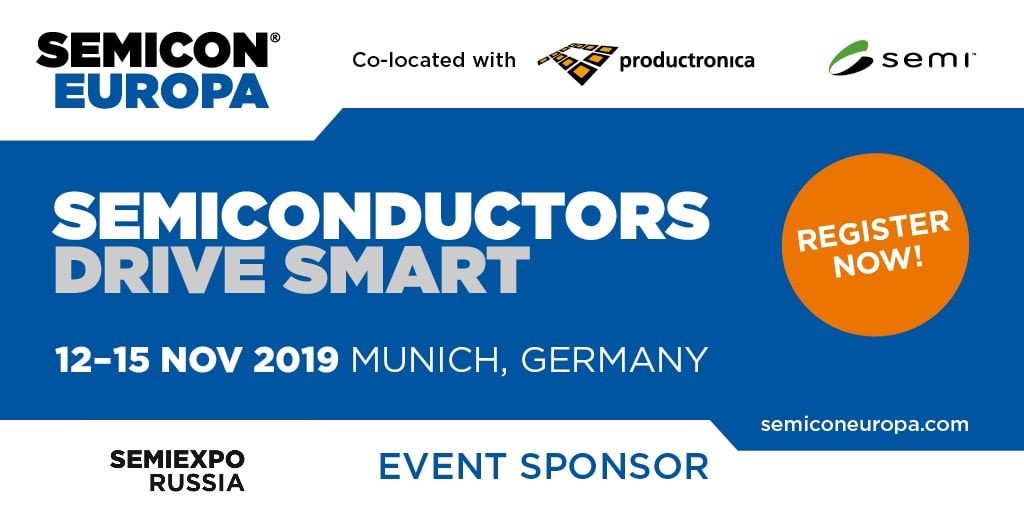 From November 12 to November 15, 2019, Munich will host the largest international exhibitions of electronics and microelectronics, technologies, equipment, materials, components for their production — Productronica'2019 and Semicon Europa'2019.
This year, Productronica'2019 and Semicon Europa'2019 are held at the same time and on the same venue, which will allow to see the development of the industry and latest innovations that bring the future of electronics, meet a growing number of the key players and leaders in the field of semiconductor technologies, see the whole chain creating value in production — from software to process control, from technology to applications and from products to system solutions.
On November 12, within the framework of SEMICON EUROPA on TechArena 1 will be arranged a special session aimed at collaboration opportunities with Russia under the topic: "RUSSIA ON THE EDGE OF DIGITAL TRANSFORMATION". Which technologies, components and solutions to supply from Russia, how to cooperate with Russia in changing environment, how to international cooperation in manufacturing of electronics and radio-electronics, which new projects emerge — all these topics will be highlighted by the experts exclusively invited to SEMICON Europa from Russian Federation.
During the session, the speakers will cover all the issues covering international collaboration, present new formats, ideas, cover legal issues and highlight the solutions connected with MEMS, NVM Technologies, online and offline platform for growing business in the region.
Mr. Vasiliy Shpak, the Head of the Department of Radioelectronic Industry, Ministry of Industry and Trade of Russian Federation will open the session with a welcome speech.
The team of SEMIEXPO Russia will present a new program of events designed to demonstrate new products and establish dialogue on international level. SEMIEXPO Russia exhibition will be held in Moscow, from June 9 to 10, 2020.
Responding to requests from Russian participants and visitors of SEMICON Europa, who are at the first hand interested in the possibilities of searching for export markets, negotiations with partners, searching for new solutions and optimizing supply conditions, the SEMIEXPO Russia team offers a number of development-oriented business events within the framework of international cooperation with Russia and CIS.
Ostec Corporate group has prepared an extensive program for its clients, including guided tours of the stands and visits to Zestron, Audi, Christian Koenen GmbH, the Fraunhofer ESK Institute, B2B meetings, sightseeing in the city of Munich. Ostec Corporate group is the largest engineering company in Russia and CIS countries that provides complex engineering-consulting service for improving work efficiency of companies and competitiveness of their products in the area of various electronic devices, equipment and components manufacture. Ostec Marketing Agency provides marketing solutions to the Russian radioelectronic and electronic industry and help foreign companies enter the Russian market.
More information @https://www.semiconeuropa.org/showfloor-techarena-2019/#Russia